Pierre Cheyron, former CEO of ENGIE South-East Asia, shares the state of smart cities application in South-East Asia and his time with UnaBiz.
ENGIE is a big supporter of startups with programmes like the ENGIE factory and funding arm like ENGIE new ventures. Can you please tell us more about them?
You are absolutely right, we have been at ENGIE, especially for the past 3 to 4 years I would say, investing heavily into selected startups and setting partnerships with them in order to feed our core business priorities. And smart cities, helping cities to become smarter, more efficient and more resilient and more sustainable is at the core strategy of ENGIE.
You also support innovators like Sigfox. What do you think is 0G's part in smart cities applications?
Large scale IoT, large scale digitization of cities, supported by proper and cost effective IoT solutions is a must, is an essential brick in making cities smarter and more sustainable. And in that context of large scale IoT developments, we believe that 0G solutions have a great potential and are a great solution for that and that's why we have been a partner of Sigfox and we have been a partner of UnaBiz, because this is an essential brick for us.
Do you think large scale IoT has been realised in Asia?
Large scale development for smart metering, smart utilities, for example UnaBiz secured a significant contract for gas metering in Japan with NICIGAS, but we see also a lot of opportunities of applying 0G technology for IoT solutions to improve our traditional services such as facility management where we have been working with UnaBiz successfully in interesting project with hospital in Singapore for example.
What do you think is important to drive massive IoT?
What is important I think is that we are not just looking at building a network which will allow some affordable connectivity for IoT, we need to look at the entire ecosystem and entire solutions, because every type of customer whether it's a hospital, a gas distribution company, a water company, any logistics company, need this kind of technology. But they need it differently, and they need it to be integrated with specific devices, specific sensors, and specific entire end-to-end solutions, and I think that is what is really important. So 0G is the basic layer but what we need to build on top of that is much more important.
IoT is a buzzword and there are many IoT companies. What makes UnaBiz unique? What did we do right?
You are right IoT has been a buzzword for digitalisation for the past close to 10 years, and a lot of initiatives, a lot of companies have done IoT solutions, IoT networks, IoT devices, IoT applications etc, but when you look at the actual implementation and commercial success of it, there is only a handful of them who really made it and have turned it into a real sustainable commercial business model. And especially in smart cities, the basic layer is to collect data, but what you need on top of that are all the end-to-end solutions that will not only collect but also treat this data and aggregate them and present them to be usable for the end user, and that's what i think differentiate UnaBiz from many other IoT companies. Unabiz is not a pure connectivity player, UnaBiz really developed additional skills in end-to-end integrations, software design, devices design, and much beyond that, industrialising the manufacturing of devices. So UnaBiz really looked at the entire chain and took it in its own hands.
What is your impression of Henri?
So I got to know Henri 2 years ago I think. I didnt know him yet, I heard about him, I heard about his character, because he is quite well known in the french community in Singapore. I would say I have been impressed by his drive, his energy, his dynamism, sometimes overflowing, but that is what startups need as well, someone who leads them with enthusiasm and a lot of energy. But I think Henri has gained in maturity in the past 2 years, and I think largely thanks to him and his vision and his capability also to build around him a strong team which is quite diverse, and that was built by Henri. So I think he is a great leader for this kind of ventures, yes.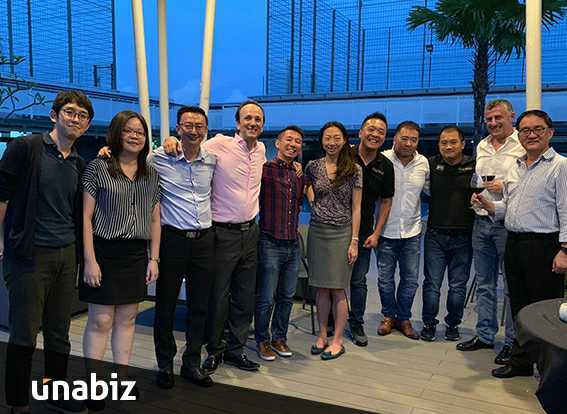 What is it like to work with an IoT Startup like UnaBiz?
To be honest it was my first experience to be involved in the management of a startup. Honestly I was really interested in the technology, in IoT, because again I believe this is essential for the execution of ENGIE strategy especially in cities. When I joined the board, the company was still a bit struggling but had a clear direction and also a vision carried by the founders – founders which I found immediately very motivated, very inspiring, very pushy and strongly believing that their strategy was right, and I think they built a strong team around them to execute this strategy. And even if many people at that time were questioning the diversification strategy of UnaBiz to go for the entire value chain beyond just the connectivity, they managed to stick, very strongly, to their vision despite the adverse wings, coming maybe from inside and outside, and to drive the team in that direction.
What did you enjoy most as a member of UnaBiz's Board of Directors?
What I appreciated is that even though they had a strong vision and a very strong motivation and strategic view for the company, they were also very eager to listen to experienced people like us and most of the Board members actually. And one other thing is that the Board is a very diverse board with people of experience, and I think that brought a lot of wisdom and advice to the founders. So this mix of two extremely determined and young and dynamic bright founders together with a board composed of mixed nationalities and mixed experiences, I think that was a great experience and I enjoyed it very much. I'm a bit sad to have to leave this board at a time where UnaBiz is finally taking off.
You have witnessed numerous initiatives and partnerships in South East Asia between Asian and European companies. How do you think UnaBiz's multicultural identity has shaped the team and its business to what it is today?
It is a very interesting point because when you look at most other startups usually in South East Asia, they are either purely Asian or founded by Westerners, European or American people in Asia and around them they built a team which is very much European as well. What is remarkable in UnaBiz, this is also visible at the management team and at the core team level of UnaBiz, is this cultural mix between Singaporeans and Europeans and especially French. And I think this double culture between French and Asians brought a lot of value. Both the founders are bicultural I would say but the team also comprises a lot of various nationalities from Asia and from Europe. I think that helps a lot to understand both the needs of the market and the clients in South East Asia to have this Asian roots, but also to bring in a technology like Sigfox, which is a french technology. And this will also allow UnaBiz to venture out of Asia more easily.
Where do you think UnaBiz should head towards next?
Unabiz has been successful first starting in Singapore and Taiwan of course, and then more recently in Japan and I think the japanese opportunities are extremely important for the international development of UnaBiz. But I think UnaBiz is getting traction now much beyond Asia because UnaBiz has been the only one being able to demonstrate commercial success with an end-to-end IoT solution like what they are doing in Japan. I think this model is exportable way beyond the Asian borders and in that context, the european culture, the french culture in the UnaBiz founders and the team contributed to the initial success of UnaBiz but also will contribute even more strongly to the future expansion and success of UnaBiz beyond Asian borders.
You are moving back to France. How do you feel about leaving South Eeast Asia after 16 years?
It is a very special time for me because after more than 16 years in South East Asia as you say I will be going back to Paris, starting a new job at the ENGIE headquarter on the 1st of september, so it was not an easy decision but sometimes you have to take such decisions. And of course I will miss the vibrant ecosystem of South East Asia, I will miss the dynamism of the UnaBiz team, especially since I am leaving at a time where UnaBiz is really taking off.
What do you want to say to the Unabiz team?
When we took UnaBiz 4 years ago and when I came onboard a bit more than 2 years ago, UnaBiz was still a young lady growing up and a bit unstable, but now UnaBiz is a mature young adult, ready to conquer the world and if I have an advice, it's just to keep going the way you have been going, remain very focused on a clear strategy both in term of technology and targeted geographies. Continue with your dynamism, keep your specific multicultural mix in the company, keep listening to your white-haired wise board members from time to time and I think there will be a lot of opportunities. So keep going, stick to your strategy which has proven to be successful, try to replicate it and scale it outside of Asia, which I know the management of UnaBiz is already looking at. And even if I am in Paris, ENGIE remains a shareholder of UnaBiz, so I will be very interested in following up what is going on. I hope to see one day the UnaBiz flag in Europe, in the near future, and I will be very happy to assist on that as much as I can from Paris. Thank you again for welcoming me in your board and listening to me sometimes even though I am not an expert in IoT. I learnt a lot from you and I hope you continue your successful journey.
What is your impression of Philippe?
So Philippe is obviously a very good complement to Henri because he is not only a great technical expert but he is able to put simple words in front of the technology to explain it to investors, to clients etc. So not only he is able to, I think, drive the technology calls and progress and developments of UnaBiz in the right direction, but he is also able to make it relevant to the market and present it to people like me who don't know anything about IoT. Between the technology passion of Philippe and the business drive, the entrepreneurship drive of Henri, I think this combination is great for the success of UnaBiz.