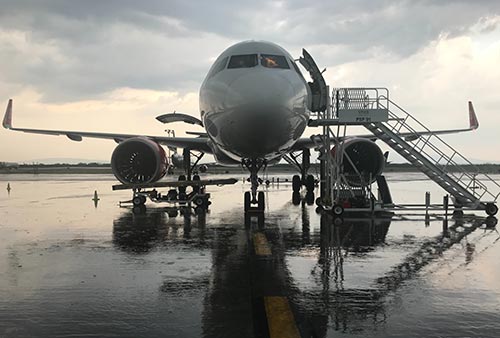 Civil aviation is one of the most asset-intensive industries in the world. Maintenance, Repair and Overhaul (MRO) has always been a tough function to automate due to the complexity and confidentiality of data.
All MRO companies are aware that any improvement in asset tracking and maintenance can potentially yield significant operational cost savings. This is why monitoring the utilisation of Ground Service Equipment (GSE) that supports the operation and maintenance of the aircraft becomes crucial in the digitalisation of MRO.
Real Life Cases

Ground Service Equipment Monitoring with Henchman & Airbus
Airbus has over 10 thousand assets around the airport, it is extremely challenging to monitor the usage pattern, reliability and efficiency of their assets at all time without increasing overall costs.
Through the implementation of an affordable IoT network, bundled with low-cost motion sensors that detects the occupancy status of assets, and energy efficient trackers that monitor their equipment movements and usage pattern, we help MRO operators improve their operation efficiency, reduce downtime, and deliver the service aircraft back into the air again.
Discover the Benefits of 0G Solutions
Long battery life, less maintenance.
Low cost, wireless, easy-to-install.
Automated data logging for audit.
Receive alerts when parameters are breached.
Data is stored on our Cloud for easy retrieval.

We speak English, Mandarin, Spanish, Japanese and French