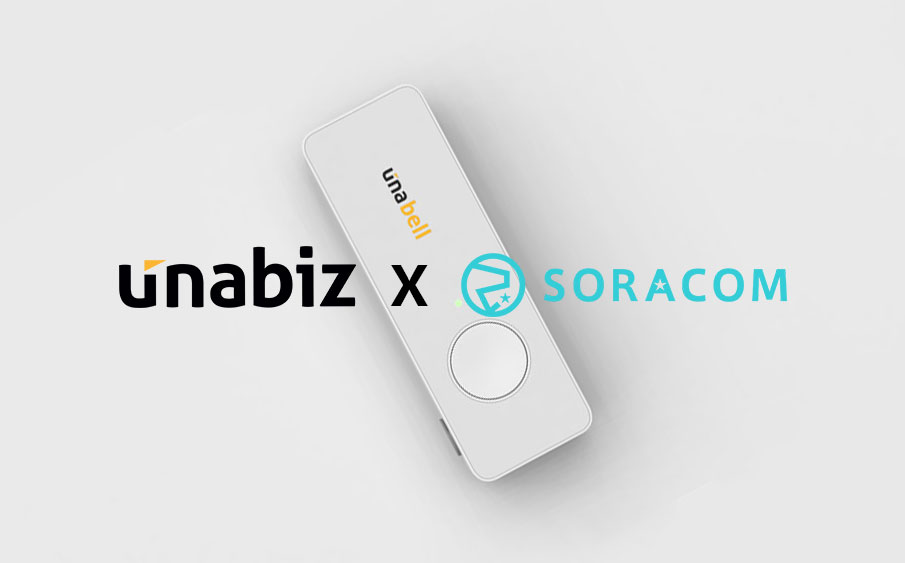 SEATTLE and LONDON — (February 21, 2023) — Soracom, Inc., a global provider of advanced Internet of Things (IoT) connectivity, and Massive IoT service provider UnaBiz have announced the joint global development and launch of an LTE-M-based IoT button that utilizes Soracom's eSIM technology and cloud-native smart connectivity platform. The configurable button, which the companies will brand and sell independently, is the first commercially available product based on technology collaboration between the partners, who have previously worked jointly on proprietary hardware and smart connectivity projects for specific customers.
Connected buttons are sometimes described as "smart buttons," but what makes the LTE-M IoT button so effective is its simplicity. A single click or press sends an event over the built-in LTE-M connection to the Soracom or UnaBiz platform endpoints, where the real intelligence resides. From there, the possibilities are nearly limitless.
Users can configure the button to trigger serverless functions on popular cloud services such as AWS, Microsoft Azure, and Google Cloud Platform. After registering the device a user can simply select a cloud service, apply a piece of code and associate a button click to trigger any logic deployed in the cloud. Developers looking to quickly understand and apply Soracom or UnaBiz platform capabilities can use the LTE-M button as a standalone device or with sensors and other devices (like a flood sensor or magnet relay) for more industrial applications.
Based on the code that users choose to deploy to their cloud of choice, the button can be used for any purpose. With the push of a button, users can order products and services (like ride hailing or meal ordering), start or stop a task (as in a home automation context), generate an alert, provide feedback, and more. Industries such as eCommerce, call centers, hospitality, maintenance, transportation can use the IoT button to automate operations, streamline workflows, and improve customer service.
"The magic of the LTE-M Button is that it's a very simple device, but its applications are limited only by the user's imagination. Because it includes both connectivity and cloud integration, users can incorporate it into their own IoT use cases immediately on registration," said Kenta Yasukawa, CTO and co-founder of Soracom. "It's a very effective reference device for getting started in IoT, but it can also serve more sophisticated use cases, like connecting sensors and relays. Adding Soracom's powerful platform capabilities lets the LTE-M button serve advanced cloud based IoT systems using serverless cloud functions, data lakes, machine learning services and more."
UnaBiz, which was appointed as the new owner of Sigfox technology in April, 2022, has deep experience in developing custom design and off-the-shelves Low-Power Wide-Area Network technologies devices and sensors. With Soracom, UnaBiz is now pursuing LTE-M devices that allow enterprises and developers to easily integrate with existing business workflows and systems.
"Building on our deep knowledge of Sigfox-based low-power devices design, it was only natural for UnaBiz to partner with Soracom team expertise in LTE-M integrations," said Alexis Susset, CTO of UnaBiz. "This collaboration has enabled us to jointly deliver a simple, evolutive and elegant IoT button which will last years on a single battery charge and benefit from the growing LTE-M networks coverage."
Features of the LTE-M button include Soracom's eSIM technology, a three-color LED status indicator, FOTA support, replaceable AA batteries, IP54 grade, and a recycled plastic casing. The button is pre-configured to send events to the companies' cloud endpoints.
The button will be available for sale in the United States, UK, Germany, France, the Netherlands, Italy, Spain, Portugal, Taiwan, Singapore, and Thailand.
For more information, visit unabiz.com/unabell
About Soracom
Soracom is leading the democratization of IoT connectivity, offering robust solutions specifically designed to make it easy to build, operate, and scale IoT deployments. Founded in 2015, Soracom now serves more than 20,000 startups, SMBs, and global enterprises across all industries, from agriculture, energy, construction, and transportation to consumer electronics, manufacturing, real estate, and healthcare. Customers trust Soracom for affordable, reliable connectivity that accelerates speed to market, makes it easy to connect to the cloud, and offers access to a worldwide partner ecosystem. More information is available at www.soracom.io.
About UnaBiz
UnaBiz is a proven global Massive IoT service provider and integrator that specialises in solution design, manufacturing, connectivity and data platform services across a hybrid of low-power wide-area (LPWA) technologies such as Sigfox 0G, LTE-M, NB-IoT and LoRa, to power sustainable business growth. Founded in 2016, the company is headquartered in Singapore, with R&D centres in Taipei and Labège (FR), and sales offices in Tokyo, Paris, Madrid and Holland.
UnaBiz owns the Sigfox 0G technology that connects over 10 million sensors for 1500 B2B customers on the global 0G Network, owned and commercialised by 70+ national Operators worldwide. The company focuses on Utilities, Supply Chain & Logistics, Security and Facilities & Building Management.
MEDIA CONTACTS
Justine Schneider 
Calysto Communications
[email protected] 
O: 404-266-2060, ext. 507