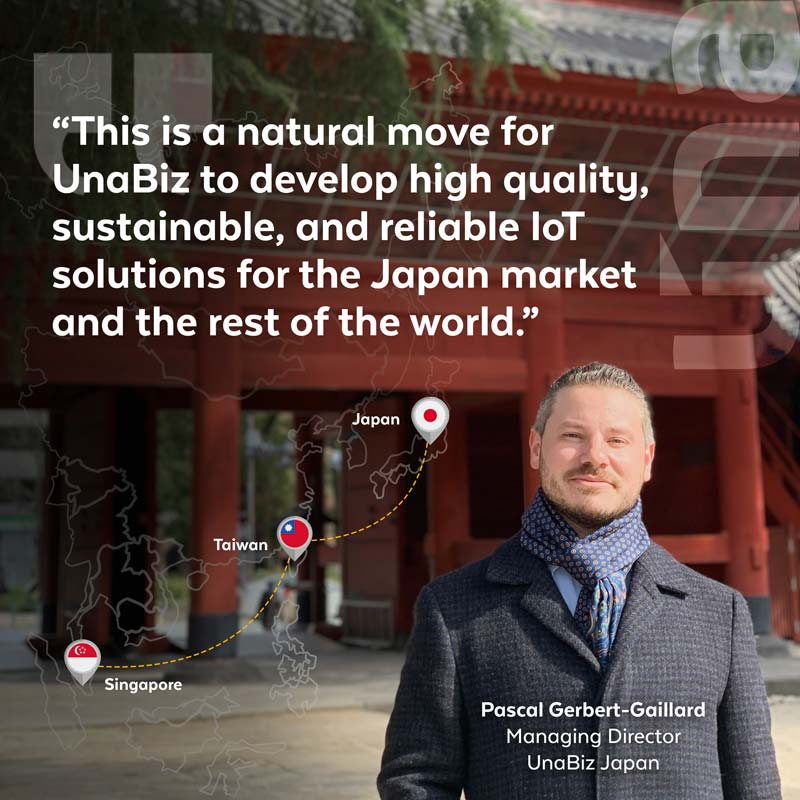 Strategic alliances identify innovative business opportunities for UnaBiz in Japan
The planned expansion comes on the back of growing business partnerships in the country
TOKYO—June 2, 2021— Today, UnaBiz announced its new office in Tokyo, Japan, to support its growing strategic alliance in the country and explore new collaborations to expand its existing smart solutions offering. The move is the culmination of the company's increasing market presence in one of the top markets for ICT and IoT.
In 2018, UnaBiz raised over USD10 million in its Series A funding round led by KDDI, Japan's global telecommunications pioneer, through its "SORACOM IoT Fund Program". Since then, the massive IoT service provider has announced and completed one of the largest Smart Gas Metering projects in the region with SORACOM, KYOCERA Communication Systems, and Sigfox – rolling out 850,000 smart gas meter readers for NICIGAS, Japan's largest liquid petroleum gas entity. Despite the pandemic, the project has been completed, and NICIGAS is now offering the solutions to other gas operators.
Kenichi Matsuki, Director at Kyocera Communication Systems said, "The entry of UnaBiz is proof that Japan is one of the largest IoT markets in the world. We hope that the opening of the Tokyo office will further promote the use of the Sigfox network in Japan. As the exclusive Japan Sigfox operator and the win-win partner of UnaBiz, KYOCERA Communication Systems will continue to strive and develop the IoT market in Japan, making use of our experience, expertise and network infrastructure to develop solutions with domestic customers and partners."
"We are pleased to announce the appointment of Pascal Gerbert-Gaillard as the Managing Director of UnaBiz Japan," said Henri Bong, CEO and Co-Founder of UnaBiz. "Pascal is an entrepreneur and an experienced general manager who specialises in cross border projects in Asia, where he has been based since 2008. Having worked in several industries and lastly as Asia Director for Bio c' Bon group, Pascal brings a wealth of knowledge in Retail, Food, Energy and Technology, all key sectors for UnaBiz. We want to connect with Japan's vibrant innovation ecosystem to increase our global competitiveness and accelerate the buildout of stronger IoT infrastructure and scale globally."
Pascal Gerbert-Gaillard is currently a Trade Advisor to the French Government, a Board Member in the French Chamber of Commerce and Industry Japan, and the President of École Polytechnique Alumni Asia Chapter. He holds three masters from École Polytechnique, École des Mines de Paris and Sciences Po in France, and is quadrilingual (Chinese, Japanese, English, and French).
"This is a natural move for UnaBiz," commented Pascal. "We believe that the new entity will bring us closer to our Japanese partners like NICIGAS, SORACOM, Kyocera Communication System and KDDI, to help them develop high quality, sustainable, and reliable IoT solutions for the Japan market and the rest of the world."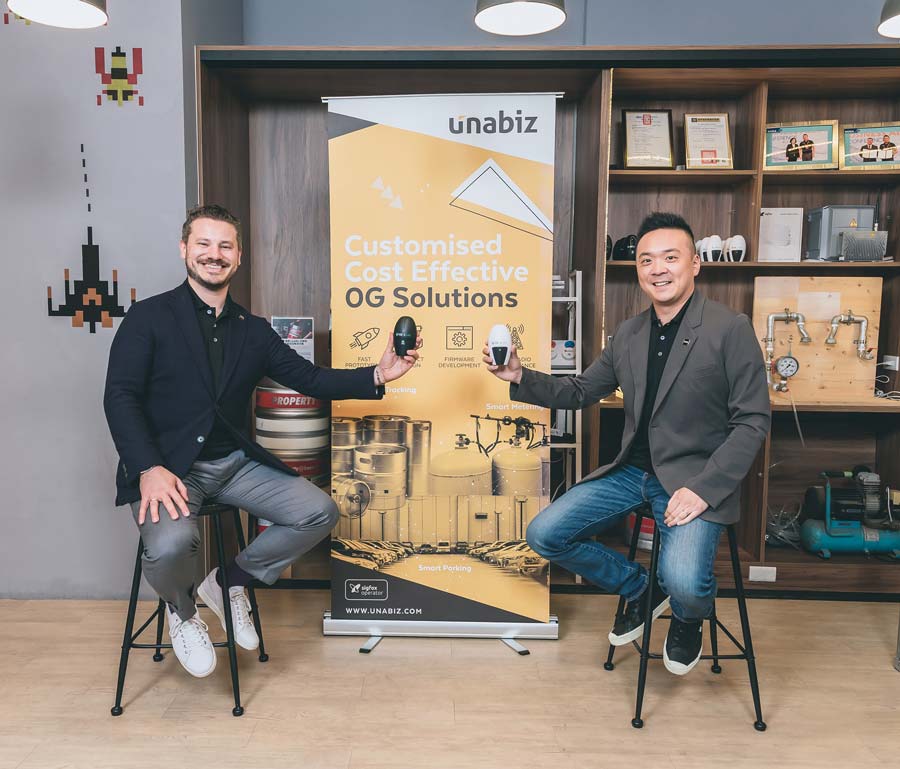 Ken Tamagawa, CEO & Co-Founder of SORACOM said, "We are very excited to work with UnaBiz, and we are sure that their passion and expertise will help Japanese enterprises adopt IoT in a creative and future-oriented way. With UnaBiz's solution and SORACOM's global IoT connectivity, we will connect many more devices and truly deliver on the benefits and promise of "Massive IoT".
Post Series A, UnaBiz joined the "Invest Tokyo" programme and worked with Accenture, the global management consulting group, on its Japan market entry strategy. The market research and growth formulation strategies helped UnaBiz identify important partners and key sectors to focus on.
"We see a great deal of synergy in IoT use cases for the Singapore and Japanese markets, especially in areas that address the challenges faced by its fast-ageing population, shrinking workforce and high manpower cost. Japan is constantly developing next-generation technologies to supplement the declining workforce—an issue further exacerbated by COVID-19. To this end, we are already working with several large corporations to develop solutions targeting Facilities Management, Utilities, Supply Chain & Logistics, and Healthcare Services and use data to improve the lives of its citizens," Pascal added.
In 2018 Enterprise Singapore, Singapore's Economic Development Board (EDB) and the Japan External Trade Organisation (JETRO) signed a Memorandum of Understanding (MOU) to facilitate collaboration and strengthen linkages between Singapore and Japan's innovation ecosystem.
Ms Rieko Tagawa, Director in charge of attracting foreign companies to Japan from the Strategic Projects Division in the Office of the Governor for Policy Planning commented, "The Tokyo Metropolitan Government would like to congratulate UnaBiz on the opening of their new Japan office. UnaBiz's expansion into Japan is a testament to the success of the "Invest Tokyo" program, which identifies foreign companies in the fields of advanced technologies such as artificial intelligence, robotics, IoT, big data and analytics. We are pleased to have UnaBiz in our program and look forward to facilitating more collaborations between UnaBiz and local Japanese companies to bring innovative solutions to the global ICT, plant and energy market for sustainable development."
For more information, visit our Japanese website: https://www.unabiz.com/ja