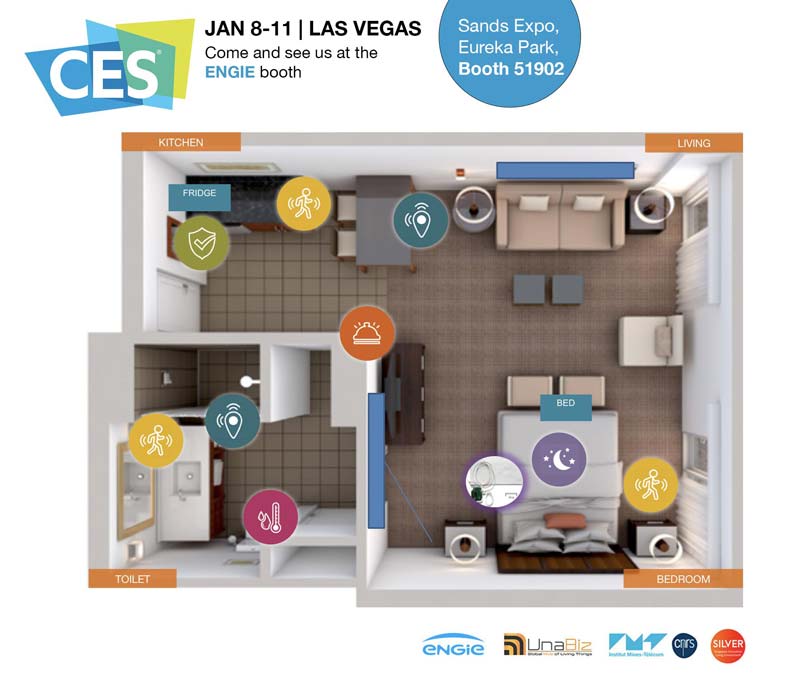 UnaBiz is kicking off the New Year with ENGIE at CES Las Vegas 2019!
Attending the world's largest trade fair for consumer electronics for the first time, UnaBiz will showcase a joint project under the SILVER (Singapore Innovative Living Environment) initiative of IPAL CNRS, with our very own UnaSensors.
SILVER seeks to address the challenges in designing smart city services for the ageing population around the world. Get a sneak peek at the innovative technologies debuting in 2019 while learning how we can ensure the senior members of our community live full, comfortable lives while maintaining their privacy and independence.
A total of 20 solutions from 11 different countries will be on show at the "ENGIE & Partners" booth located at the EUREKA PARK.
The solutions fall into five categories:
Access to energy: autonomous production of green gas from organic waste, autonomous generation of renewable electricity for own consumption, etc.
Smart energy: electricity demand response, energy efficiency solutions, data being read by drones, hydrogen recharging stations, etc.
Smart world: website that puts people in contact with professionals for field services, collective electric vehicle recharging solution, digital assistant for household energy management, urban car flow modelling system, etc.
Connectivity: On-board Wi-Fi in public transport systems, deployment of IoT (Internet of Things) networks, connected solar powered bicycle, the IoT used in urban lighting systems, etc.
Blockchain: traceability of green energy – from the producer to the consumer.