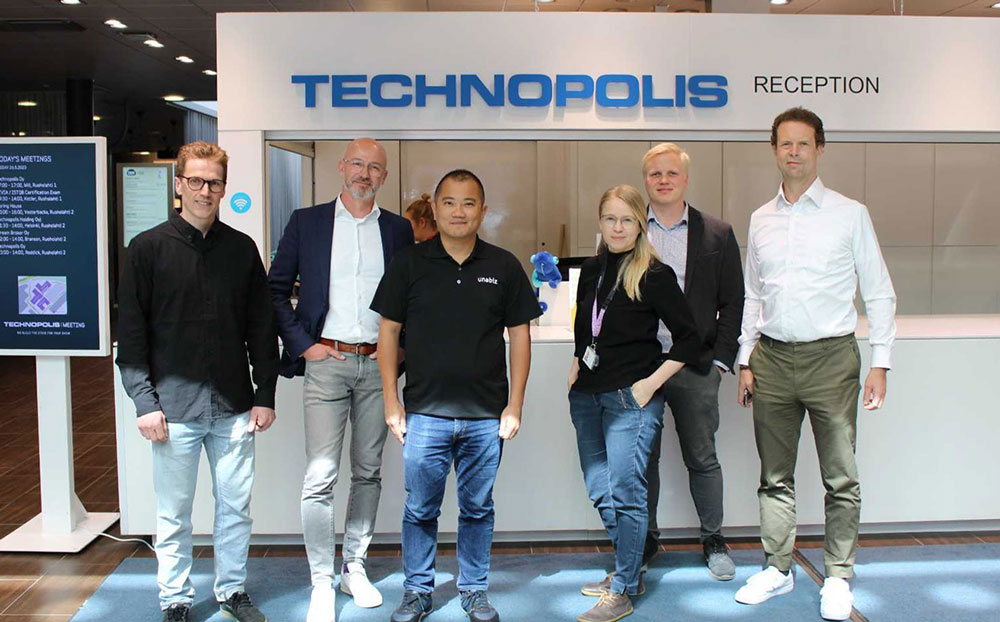 Lassila & Tikanoja Smartti Automation and Connected Inventions' AirWits Insight solutions help commercial properties in Finland reduce energy consumption and carbon emissions.
Finland, 30 May 2023 – Technopolis partner with Lassila & Tikanoja and Connected Inventions' to reduce energy consumption and CO2 emissions, allowing Technopolis to advance their Sustainability reporting and ESG (Environmental, Social, and Governance) goals. By combining L&T Smartti Automation, which optimises heating, cooling, and ventilation in buildings, with real-time indoor air quality data collected with Connected Invention's IoT devices, significant savings were already achieved within the first several months of deployment at Technopolis' properties.
Technopolis is the shared workspace expert that provides efficient and flexible offices, workspace design to reception, meeting, restaurant, and cleaning solutions. The company owns 16 campuses that host 1,500 companies and 48,000 employees in six countries within Europe
IoT solutions bring even more precise demand-controlled ventilation
L&T Smartti Automation is the building properties' energy optimisation digital service. Smartti guides and drives the existing building management system and adjusts the ventilation accordingly. Smartti optimises ventilation, and energy consumption based on real-time data, allowing it to consider factors such as changing weather conditions and the thermal mass of the building. The indoor conditions in the building remained optimal, with no energy unnecessarily wasted. Smartti has been use in Technopolis' properties in Ruoholahti 3 since the start of 2021.
Additionally, Smartti AI's integration with Connected Inventions' AirWits Insight, an indoor air quality monitoring software solution powered by Sigfox 0G technology brings even greater benefits from the building automation system. The low power and cost-efficient sensor solutions accurately monitor various parameters such as CO2 levels, temperature, and relative humidity of the building. Ultimately, allowing for better precision control over the building management system and its indoor conditions. In addition to the devices measuring indoor air quality, Connected Inventions also provides the 0G network communication infrastructure and software solution for data integration and visualisation through FoxerIoT and AirWits Insight.
"The IoT sensor solutions offer more precise indoor air conditions within buildings, whilst L&T Smartti automation AI can optimise conditions and energy consumption even more effectively than before. With this combination not only do we get energy savings, but also consistent indoor air and optimal conditions for building occupants." tells Customer Relations Manager, Vantte Kenttä, Lassila & Tikanoja.
Demand controlled ventilation (DCV) Brought significant energy savings to Technopolis
Technopolis Ruoholahti 3's property deployed Smartti Automation and AirWits Insight in winter 2022. Within the first few months, the building management witnessed profound results – an overall savings of over 30 percent in heating energy and 50 percent in ventilation energy consumption.
"L&T Smartti Automation and Connected Inventions' IoT sensors' pilot project results have been so good, so much so we've decided to implement it in other commercial buildings around Finland. In addition to energy efficiency, we were able to also confirm improved indoor air quality in the building property" says Head of Property Management Ismo Myllymäki, Technopolis
"Congratulations to Connected Finland and Lassila & Tikanoja for achieving such great results with Technopolis properties. Facilities and Building Management is a key vertical for UnaBiz. We will continue to develop the Sigfox 0G technology to facilitate energy efficiency and carbon neutrality for buildings as we transition to net zero in the coming years," said Henri Bong, CEO & Co-Founder of UnaBiz, the owner of Sigfox 0G technology.
About Connected Finland
Connected Finland and its subsidiary, Connected Inventions, were founded in 2015 with the aim of bringing IoT sensor solutions to the mass market and providing affordable data collection and utilization. We have helped hundreds of our customers and partners harness the power of data through our sensors, where we have delivered to over 50+ countries.
About Lassila & Tikanoja
Lassila & Tikanoja is a service company that makes the circular economy a reality. Together with our customers, we aim to keep materials, buildings, and factories in productive use for as long as possible, while optimizing the use of raw materials and energy. By doing so, we create more value through the circular economy for our customers, employees, and community/society. Succeeding in this, we also increase the value generate for our shareholders. Our goal remains to constantly increase our positive climate impact, and carbon footprint. We take social responsibility by taking care of the well-being of our own employees and providing employment opportunities for those who face difficulties finding work. L&T operates in Finland and Sweden. In 2022, the company's revenue was 844.1 million euros, and we employ 8,371 people. L&T is listed on Nasdaq Helsinki.