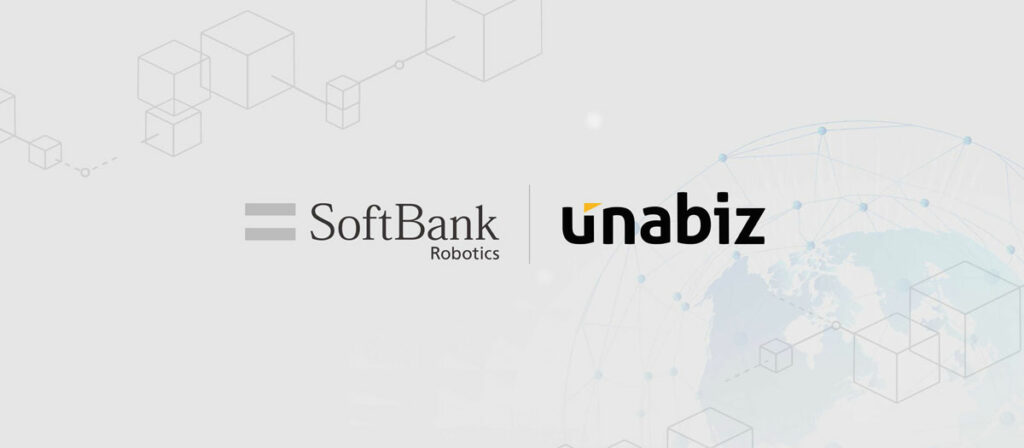 The partnership enables the integration of IoT and Robotics boosting efficiencies in facility management operations
SINGAPORE, 18 April 2022 – SoftBank Robotics Group Corp (SBRG), a global leader in robotics solutions, announced today that it has partnered with UnaBiz, massive IoT provider to initiate a seamless integration of IoT sensors and robotics in building management and maintenance that will streamline work processes, allowing efficient mobilization of on-site manpower resources. It will also improve customer service experiences with more targeted and enhanced cleaning services. The new partnership deal will first roll out in Singapore and subsequently in other SoftBank Robotics' regional and global offices.
The global health crisis has posed challenges to several industries and facilities management is no exception. As the world slowly navigates the post-pandemic era, more businesses have reopened, and the need to pay attention to this segment is greater than ever. Ensuring the safety, health, and well-being of employees remains to be the priority of employers, and newer technologies such as robotics, IoT, and AI will play a crucial role in how the facilities management industry evolves and moves forward.
"SoftBank Robotics has always been committed to providing solutions to facility operators. With the use of disruptive technologies such as predictive data on maintenance monitoring, it will provide building owners with building intelligence that is needed to digitally transform this industry operating landscape. Teaming up with UnaBiz, a leading market player in Singapore, we are confident that this partnership will not just add value to our customers but eventually make a difference in the entire sector," shares Kenichi Yoshida, Chief Business Officer for SoftBank Robotics Corporation.
SBRG understands that facilities management operators are faced with handling many different building management tools and different brands of robots. On the backend, there are several dashboards – most of which don't have a central control system for easy management. This alliance is part of SBRG's overall roadmap to implement an IoT system onto a unified smart facility management platform – where IoT devices trigger alerts and automate robots to tasks in addition to providing AI predictive data analytics.
Speaking on the partnership, Henri Bong, Co-CEO and Co-Founder of UnaBiz says, "Facility managers are embracing technology to increase the productivity of the workforce, improve customer satisfaction, and reduce carbon emissions. Both IoT and robotics have a lot of complementary purposes and the synergy of both can unlock new value for future disruptions and growth. We are confident that the right mix of SBRG robotics and our IoT devices could greatly benefit the whole industry."
UnaBiz is a trusted IoT technology partner for Smart Facilities Management in Singapore with its ability to design, manufacture and scale hybrid IoT solutions for companies working towards digital transformation. In 2021, the company deployed one of the largest Integrated Facilities Management projects in Singapore, with over 3,000 sensors at Temasek Polytechnic. On top of smart facilities management, UnaBiz also focuses on Smart Cities applications like Smart Metering, Asset Management, and Asset Tracking. The scaleup has deployed more than 1.3 million sensors globally, of which, over 1 million were smart gas meter sensors for Nicigas, Japan's major LPG company.
About SoftBank Robotics Group Corp.
SoftBank Robotics has promoted the development of technology as the leading robotics solution since launching the artificial intelligence and emotion recognition designed for the world's first personal robot, "Pepper" in 2014.
SoftBank Robotics launched the AI Commercial Vacuum Cleaner "Whiz" in 2018, then launched the foodservice delivery robot "Servi" in 2019, and is constantly offering new solutions to a wide range of industries.
In addition, SoftBank Robotics Group has established Global Partnership with Gaussian Robotics, Keenon Robotics, and AutoStore AS, and has announced an extension to our product lineup of the fully automatic floor-cleaning robot "Scrubber 50", serving robot "Keenbot", automated warehouse picking system "AutoStore".
About UnaBiz
UnaBiz is a proven massive IoT service provider who specialises in sensor product design, manufacturing, and data platform services across a hybrid of low-power wide-area (LPWA) technologies such as Sigfox, LTE-M, NB-IoT, and LoRa, to power business growth.
Based in Singapore, Taipei, Tokyo, Paris and Amsterdam, UnaBiz has deployed over 1 million sensors globally in 28 countries, focusing on Smart Cities applications such as Smart Metering, Facilities Management, Asset Management, and Asset Tracking. The company envisions a closely connected world powered by simple technology because we believe in "Less is More".
By uniting people and technology, UnaBiz aims to create an impact on a massive scale, to help every person and every organisation on the planet live smarter, simpler, and more sustainably.
For more information please visit www.unabiz.com or follow us on LinkedIn and Twitter.