5 March 2019 – UnaBiz in cooperation with Taiwan's Institute of Information Industry, with the support of the MOEA's Industrial Development Bureau, the French Office in Taiwan, together with Taiwan's largest Hua Nan Bank, ST Microelectronics, Taiwan major sovereign fund Taiwania Capital, launched Asia's first Sigfox Hacking House in Taipei.
The event was well attended by over 120 personalities from Taiwan's startups & innovation scene, IoT-industry ecosystem, government agencies (local and central) of Taiwan, including Wu Rong-i – Senior Advisor to President Tsai Ing-wen of Taiwan, and now Chairman of the 300 M USD sovereign fund Taiwania Capital, Benoit Guidée – Director of the French Office in Taipei, Director General Jang-Hwa Leu of the Industrial Development Bureau, Raouti Chehih – Chief Adoption Officer of Sigfox, Tommy Lin – Vice President Hua Nan Bank,Giuseppe Izzo – GM of ST MicroelectronicsTaiwan, Dr. Hsiao Po-Jen – Vice CEO of III, and Henri Bong & Philippe Chiu, Unabiz co-founders together with Robin Chen MD of Taiwan Market from UnaBiz.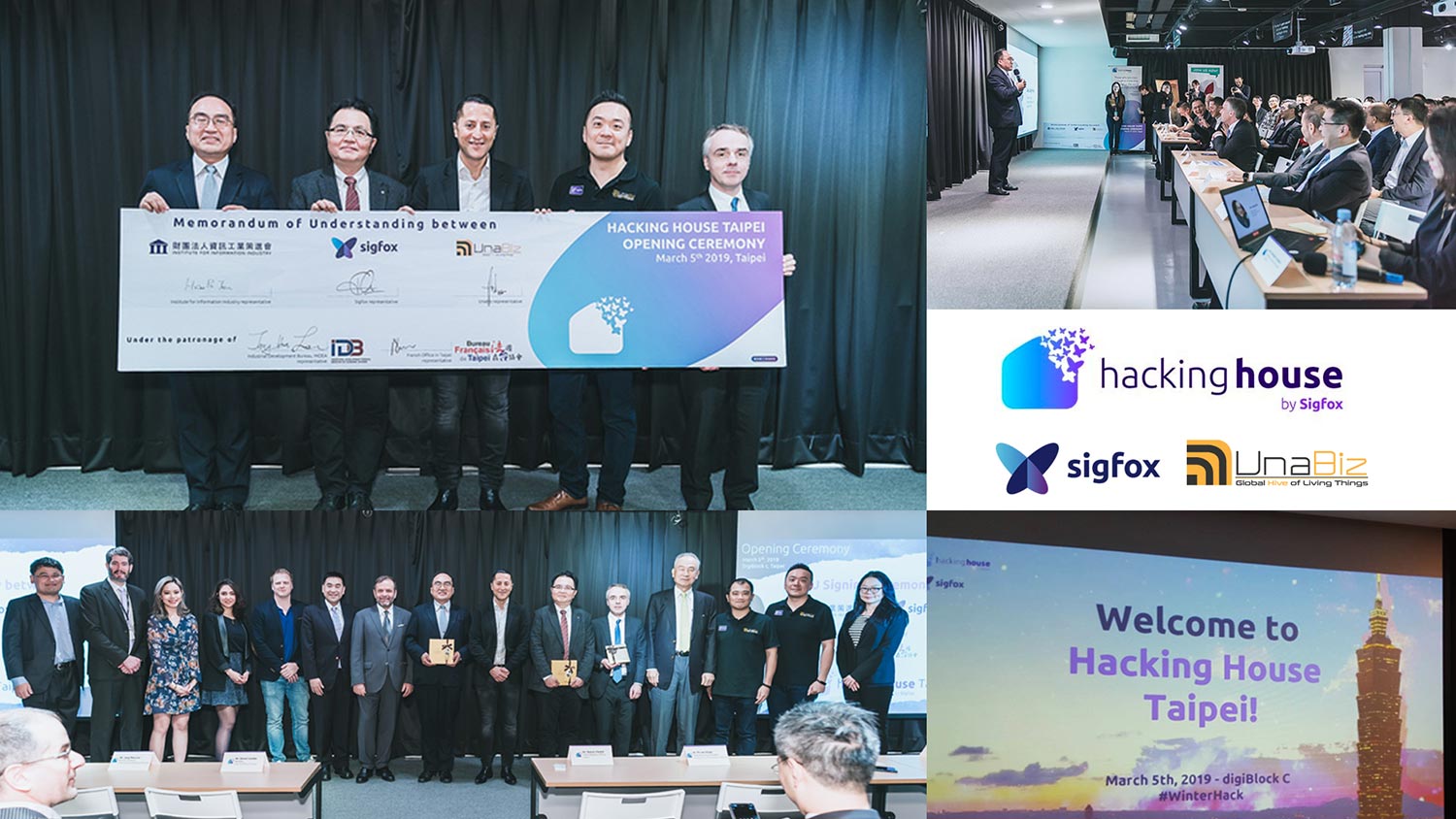 24 students will spend the next 90 days developing IoT solutions that would solve real-life problems with the goal of creating a proof of concept within three months of the programme. The problem statements were selected by Sigfox IoT Agency, among real challenges its clients' faces, such as Palm-Trees-killing Red-Palm Weevil (insects) detection, Gas Cylinders geolocation monitoring, Fire-Extinguisher monitoring and many more. Complemented by III's challenge such as "Smart Door Lock System for Automated Hotel or Office reception desks", or one of the projects submitted by a participating team the startup Think Tank, to detect and automate car insurance incidents, providing proof of truth based on ThinkTank's blockchain system and Sigfox sensors.
Three teams with the most promising concepts will emerge and receive support to launch their very own start-ups and be introduced to Sigfox's global network incubators, accelerators and venture capitalists.
The pre-incubator initiative started in the Silicon Valley last year and led to the creation of three working prototypes, including the "ConnectedSeals" solution, to alert import and export companies when container seals are moved.
All participants of the Hacking House will get hands-on experience with Sigfox's technology, which now has over 1,200 IoT startups onboarded, more than 85,000 subscribers and more than 10,000 development kits now being used worldwide.
Philippe Chiu, Chief Technical Officer & Co-founder, for local Sigfox Operator, UnaBiz, says: "UnaBiz has been focused on promoting Taiwan's world-class know-how in hardware prototyping and manufacturing management since 2016. Our first Hacking House event in Asia has all the ingredients needed to bring brilliant IoT innovations to life, by mixing the excellence of Sigfox technology with the in-depth engineering talent pool this region benefits from."
Full list of commercial partners:
● Business Next
● Fablab Taipei
● Mighty Net
● STMicroelectronics
● Taiwania Capital
● Unabiz
● Zyxel Foundation
● French Tech Taiwan
● Soracom
● Jorjin
● Exosite
● PChome Online Inc.

Full list of academic partners:
● National Cheng Kung University
● National Chung Hsing University
● National Taipei University of Technology
● National Taiwan University of Science and Technology
● National Tsing Hua University
● National Yang Ming University
● National Chiao Tung University
● Tamkang University