Global Cellular IoT Connectivity
POWERED BY SORACOM
Enjoy Pervasive Global IoT Network Coverage from 0G to 5G
5 Million
connected devices
The only Cellular SIM you need for Global IoT Connectivity
Get seamless wireless connectivity wherever other methods are not available.
Enjoy the most cost efficient pay-as-you-go mobile data service.
Connect across networks, from 2G, 3G, 4G LTE cellular to Cat M1.
Seamless:
Activate connection within minutes. Easy and flexible deployment and management thanks to the world-class user-friendly console and open APIs.
High Network Reliability:
Never worry about connectivity with our Multi-Network Fallback Service.
Auto switch to alternative networks if your device encounters connectivity issues.
Beyond the SIM Card:
The Soracom platform provides integration between mobile network operator infrastructure and cloud services, simplifying your development and helping overcome common challenges with integration, security, and scale.
The integration begins with a Soracom Air IoT SIM module (SIM card or Embedded SIM). By simply inserting or integrating an IoT SIM module into your device, it will automatically gain global cellular data coverage.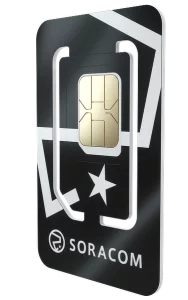 Integrates with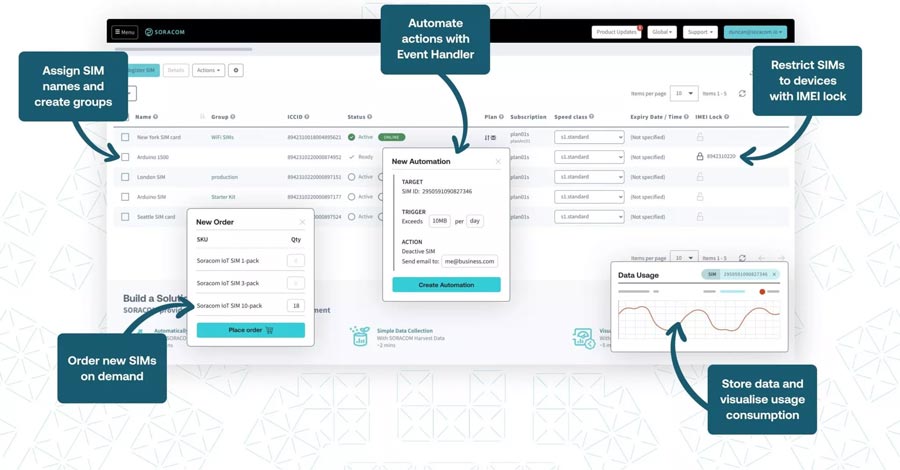 Features
3-in-1 removable cellular SIM card that breaks apart to 2FF*, 3FF* or 4FF*
Connects seamlessly to multiple speed classes
Works with any network type (2G, 3G, 4G, LTE, GSM and Cat-M1)
Designed to work with custom hardware and all leading IoT microcontrollers, modules, and routers
Powered by multiple carriers like AT&T, Vodafone, Telus and more.
View the coverage map here.
Cost-Efficient
Soracom cellular connectivity keeps your IoT data costs low, without compromising performance or security.
Pay-as-you-go
Easy self-service without carrier interaction. No minimum commitment, pay only for what you use.
Ultra competitive single global rates and customisable bundle deals.
Global Roaming
No roaming agreement? Not a problem.
Enjoy automated global roaming out-of-the-box with Soracom Air SIM.
IoT connectivity available in 170+ countries with 350 operators.
Scalable
World-class SIM and routing management platform. Seamless cloud integration.
Powerful Console
Integrate your Soracom SIM card directly with private or cloud-based network services, such as AWS and Azure.
Soracom provides multiple network services that connects cellular devices directly to private networks, with transmitted data never traversing the open Internet.
GET YOUR CELLULAR SIM CARD NOW!