Smart Asset Tracking Case Study: Konvoy Smart Beer Keg Tracker
Konvoy selects UnaBiz to develop its Kegfox tracking beacon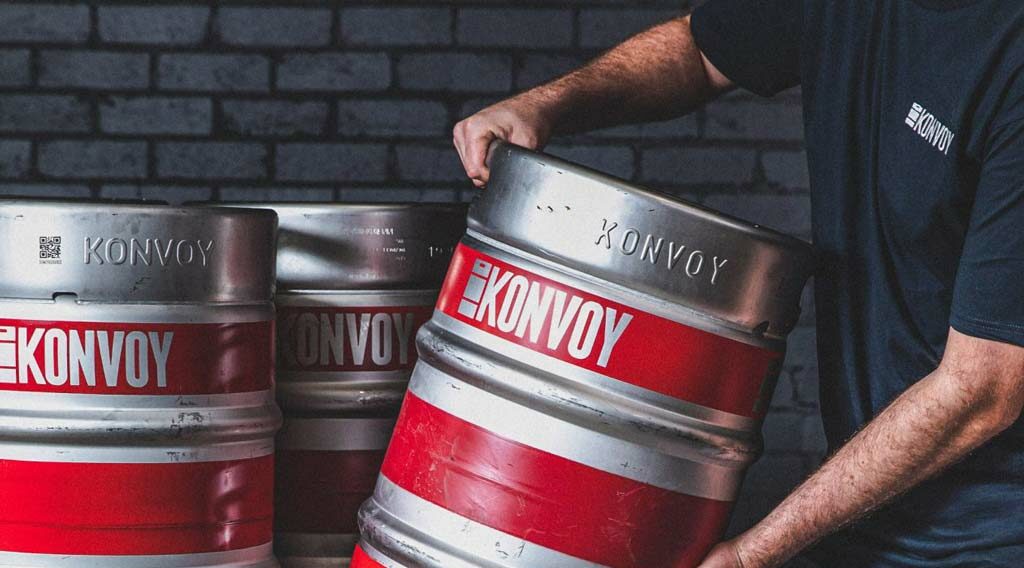 An estimated 12% of the world's kegs go missing each year. While some might end up at a warehouse or in the wrong brewery, others are stolen and sold for scrap. As metal prices rise, brewers expect to lose millions of dollars on lost kegs. Unlike bottles and cans, kegs are expensive assets. Priced around USD100 each, kegs are returned and reused by the brewers. This created the keg rental business as it allows small and medium-sized breweries flexibility in managing their kegs supply according to seasonal demands.
Challenges
The loss of high-value assets impacts the bottom lines for brewers, wholesalers and retailers alike. Existing cellular-based solutions are costly. RFID and QR code scanning methods lack real-time data and is unreliable.
Solution
A customised beacon that can track the movement of the keg's life cycle using WiFi, accelerometer and temperature sensor that lasts 7 years.
Results
Optimised operations, enhanced billing, theft prevention and customer service improvement.
Konvoy started in July 2019 as a keg rental company based in Australia. Founded by a team with over 40 years combined beverage and keg pooling experience, the company already had in circulation around 70,000 beer kegs across its Australia and New Zealand operations by 2019.
Representing over 200 brewers in Australia and New Zealand, Konvoy's clients include well-known craft breweries such as Moon Dog, Fixation, Parrot Dog and Hawkers, among others.
When creating the company, Konvoy knew that they needed to address the problem of lost kegs in order to protect their customers' bottom line and differentiate themselves in the rental market. It is hard for their clients to hit their ROI when they keep losing kegs. To replace the time-consuming tracking solutions, Konvoy decided to invest in a full-fledged monitoring solution that makes operational and economic sense.
A BREWING PROBLEM
At the core of the Konvoy's business, the need for a simple, tracking solution was essential to entering the keg pooling market. QR code and RFID scanning solutions are common in the market, but inefficient as each keg has to be scanned individually when kegs are moved from venue to venue. If anyone fails to scan the kegs in a timely manner, misses a keg, or has a problem with a damaged QR code, there will be gaps and lags in the system. This creates inaccuracy in keg fleet data, leading to inefficient resource allocation.

A REAL-TIME SOLUTION THAT MAKES OPERATIONAL AND ECONOMIC SENSE
In order to address the problem, Konvoy commissioned UnaBiz to design its Kegfox beacon, a full-fledged, purpose-fit tracking device and software system that reports the keg's location throughout its life cycle.
The beacon is programmed to record data of the kegs at specific intervals, or events with an algorithm that detects different types of movement, such as when the kegs are moved or cleaned. Data is then transmitted to the cloud via Thinxtra's 0G Sigfox network in Australia and New Zealand. Thanks to the low-power consumption of the network, the beacon can last up to 7 years transmitting information on their location and temperature several times a day.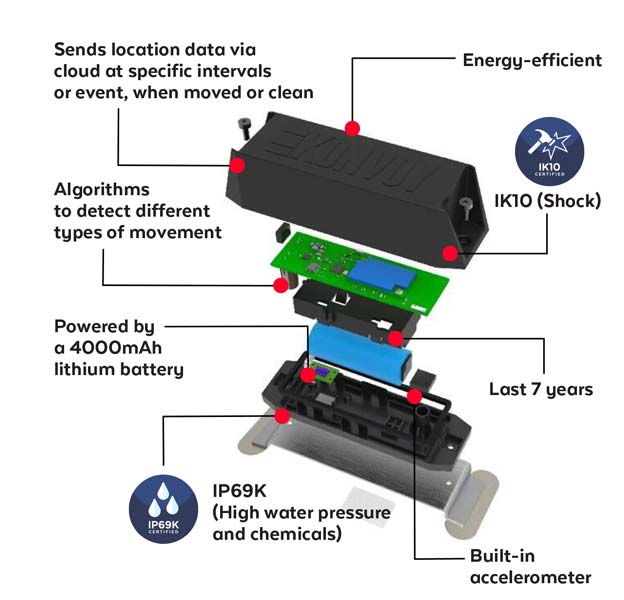 While we focused initially on tracking, this solution has given us the opportunity to also monitor the kegs' temperature. Because most of the producers have unpasteurized beverages, leaving a keg at too high a temperature actually spoils the product. Being able to send an alert to our customer saying their keg has been transported at the right temperature is an important benefit for them.

Adam Trippe-Smith, Founder of KONVOY
The average keg is built to deliver 20 to 30 years of service, notwithstanding rough treatment and temperature extremes. The tracker needs to endure harsh treatment from filling, to distribution, to stacking in inventory, to dispensing at the local pub, collection and return to the brewery, through rigorous cleaning and sterilisation, then back to the filling station to start again.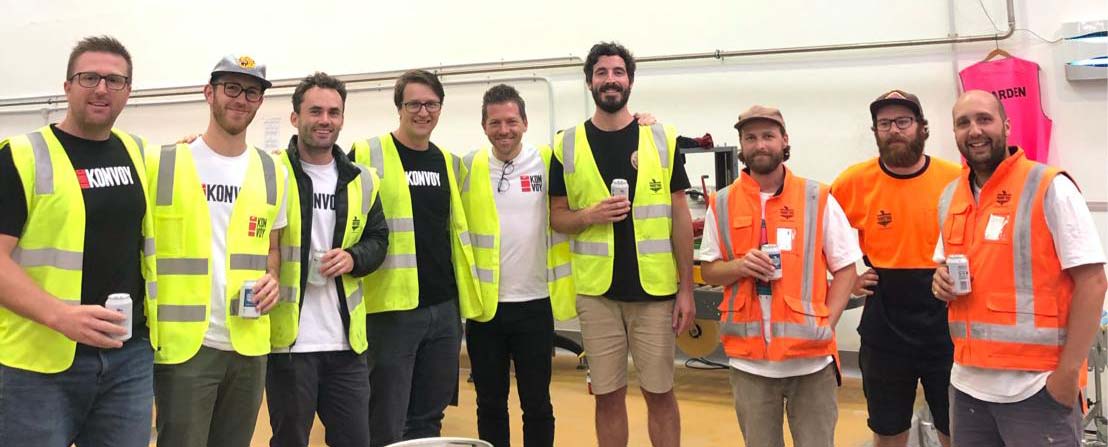 A RELIEF FOR THE ENTIRE SUPPLY CHAIN
"Konvoy's go-to-market urgency was a challenge. As a complete IoT business solution provider, beyond hardware, it was important to make the solution and data accessible to Konvoy as soon as possible. To value-add to hardware, the team also created a mobile application Konvoy and its partners now use throughout the chain for provisioning and pairing the beacon and kegs to accelerate the deployment of Kegfox. The ease of use and access to live location data is what will help Konvoy define its position in the keg rental market."

Philippe Chiu, CTO and Co-Founder of UnaBiz
Accountability has always been a big challenge. While someone has to be held accountable if the kegs go missing, it is hard to penalise clients and expect a good long-term relationship with them. Ensuring financial stability while maintaining a good relationship with clients can be a difficult line to straddle. By shifting the responsibility for tracking kegs from the customers to Konvoy, a huge amount of stress is removed from the keg supply chain.
THE RESULTS: HAPPY HOUR!
Increases visibility of kegs throughout the supply chain and reduction in loss rate
Improve overall keg management, more accurate billings and the elimination of having to reconcile keg flows through statements
Real-time data and actionable business intelligence for Konvoy to optimise the management of their assets and dispatch their kegs with speedy returns
Value-added service for customers on temperature of beverage when the kegs are transported throughout the supply chain
The UnaBiz team is customer focused and knows what it takes to deliver high quality products at a price point, and in timeframes, that makes mass IoT happen at scale.
UnaBiz Solutions is a trusted partner of Thinxtra and it is great to see mass deployments of their products on our 0G Network.

Loic Barancourt, CEO of Thinxtra, The IoT Telco
The solution was a dream come true. What I wanted to do to track kegs 10 years ago I couldn't do due to costs. Thanks to UnaBiz and Thinxtra, I can finally do it now.
The whole coronavirus thing is putting everyone on edge and slowing deployment down, but so far we remain on track thanks to the mobile application created by UnaBiz.

Adam Trippe-Smith, Founder of KONVOY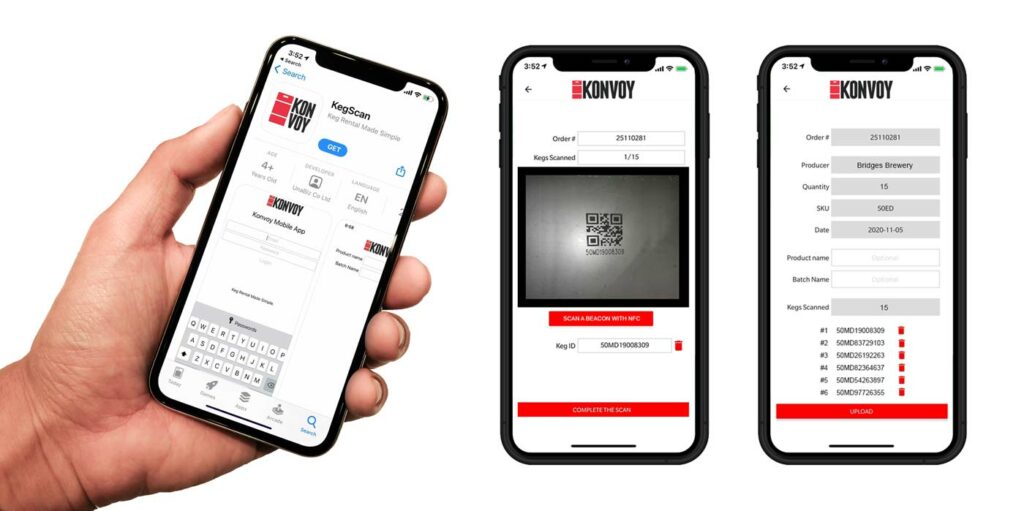 THIRSTY FOR MORE
After a few rounds of beta testing and deployment in the local market, Konvoy was happy with the results. Over 100 000 devices have been fitted since Kegfox's first deployment in 2019.
---